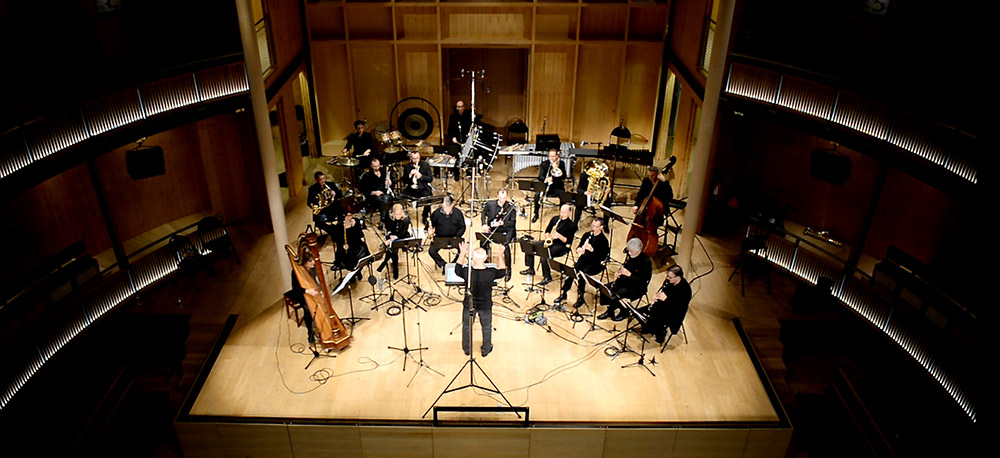 Coups de Vents Wind Orchestra  -Orchestre du Pas-de-Calais- (CDVWO) is an orchestra comprised of musicians who teach in music schools and conservatories in Pas-de-Calais.
CDVWO is also a training tool for budding composers and conductors.
Creation is one of its key goals.
The new repertoires arising from the many Coups de Vents initiatives and development measures through competitions, orders and international exchanges, among others, can thus be presented during the concerts and recordings envisaged by CDVWO. CDVWO offers highly-diversified novel and innovative programmes to draw in all audiences and win back young people through jazz, current, contemporary, and world music, among others.
Artistic Director Philippe Langlet
Founder / Director of Coups de Vents for Lille 2004.
A graduate of the Conservatoire National Supérieur de Musique et de Danse de Paris (Paris Music and Dance Conservatory) in the class of Maurice André, Claude Pichaureau, Jean-Paul Holstein and Madeleine Giraudeau-Basset, conductor, Philippe Langlet directed the wind orchestras of Le Havre for 10 years.
He has also worked in jazz and variety music, directing both live and recorded performances by Nicole Croisille, Fabienne Thibault, Michel Legrand, Anne Ducros, Nino Ferrer, Didier and Francis Lockwood, Michel Delpech, Claude François, Nancy Holloway, Marcel Azzola, Bruno Brel, Juan José Mosalini and Alexis Gruss, as well as international concert performers Maurice André, Michel Becquet, Gabriel Bacquier, Catherine Michel, Allen Vizzuti, Chris Lindberg, Roger Bobo, Bryan Bowman, Michel Moraguès and Joe Burgstaller, among others.
In 1993 he was nominated and then elected at the headquarters of WASBE, a UNESCO member consisting of 52 countries. Founding President of WASBE France from 1998 to 2002.
In 1994 he took over the reins of the Conservatoire à Rayonnement Départemental de Musique et de Danse (Departmental Music and Dance Conservatory) of Boulogne-sur-Mer, and then that of Dunkerque in 1999.
He has conducted numerous orchestras in France and abroad (Orchestre de Chambre Lyrique de Paris, Opéra de Rouen Orchestra, Soviet Red Army Choir, Opéra de Paris Choir, Kazakhstan National Orchestra, Moscow State Orchestra, Arizona State University Orchestra, American Band College Orchestra, Murray University Orchestra, Shanghai Orchestra, Taiwan Orchestra, Seoul Orchestra, Jeju Orchestra, among others).
He contributed from 1973 to 1986 as a trumpeter to the activities (concerts and discography) of the stage orchestra of the Opéra de Paris, Orchestre de Paris, Orchestre National d'Ile de France, among others, under prestigious conductors such as Daniel Barenboïm, Lorin Maazel and Claudio Abbado.
With a diploma from Tikhon Khrennikov at the Leningrad International Peace and Humanism Festival in 1988, Gold Medal of the Moscow Union of Composers, Philippe Langlet is now Honorary Conductor of the National Wind Orchestra of Russia. In 1991, he was awarded the Arizona State University Medal of Honour.
Adviser to the City of Paris for the "Maurice André International Trumpet Competition," to the city of Antwerp in 1993 for "Antwerp Cultural Capital of Europe," to the Hauts de Seine Department in 1992 for "92 the biggest band in the world" (bringing together 2,600 musicians from all over Europe for a global creation under the iconic Grande Arche de la Défense).
Founding Vice-Chairman of "Association Française pour l'Essor des Ensembles à Vent – AFEEV" (French Association for Wind Ensembles Development), he received the Palmes Académiques French National Order in 2014.