Creating links and circulating energy,
to keep wind music alive and kicking in the Pas-de-Calais!
Coups de Vents : Research, creation and training for wind music
What we do
Municipal bands, wind orchestras and brass bands in (almost) all our towns and villages: this is one of the great characteristics and original features of Hauts-de-France and Pas de Calais. It's something we can be proud of! These brass bands are a breeding ground that has been spotted all over the world.
Yet this exceptional living heritage is under threat. The main reason? A lack of repertoire that is both appropriate and rewarding.
Since its creation in 2004, Coups de Vents has had one mission: to develop and modernise wind orchestras in their historic territories. To achieve this, we organise prestigious international competitions to renew the repertoire, as well as training sessions for musicians and conductors, special events and numerous concerts.
We're all about stirring up harmony!
« Pour apprendre le métier, quoi de mieux qu'un concours ? Un concours oblige chacun à donner le meilleur de lui-même.
Les concours comme ceux de Coups de Vents font progresser tout le monde »
« La meilleure manière de nous remercier ?
Demandez à notre orchestre de refaire le même exercice dans quelques années ! »
"Un concours de cette qualité et de cette envergure, c'est essentiel pour alimenter notre répertoire d'orchestres d'harmonie. On a pratiquement deux siècles de retard en la matière, par rapport à toutes les autres formations.
Je suis très heureux de voir enfin des personnes qui s'intéressent à l'orchestre d'harmonie au sens le plus large !"
"Nous sommes sans arrêt à la recherche de nouveaux répertoires, de pièces originales, de créations, d'élargissement de répertoire. Ces concours répondent exactement à ce besoin."
« Le CIC permet de développer un répertoire pour les orchestres d'harmonie, ce qui est important aussi pour leur permettre de se démarquer de l'orchestre symphonique.
L'orchestre d'harmonie n'est pas là pour jouer des transcriptions d'orchestres symphoniques, pas du tout ! C'est pour développer une sonorité propre, des reliefs propres, une identité propre. »
« Nos orchestres d'harmonie sont hyper polyvalents. Dans la forme de concerts, dans l'esthétique de concerts, dans le mélange des genres, dans le mélange des arts : je pense que nous n'avons pas exploré toutes les possibilités de l'orchestre d'harmonie ».
THE ORCHESTRA
Made up of teachers from music schools and conservatoires in the Pas-de-Calais region, Coups de Vents Wind Orchestra is a band that will blow you away!
TRAINING
Because the development and enhancement of our orchestras also depends on the qualifications of their conductors, Coups de Vents offers training courses in orchestral conducting.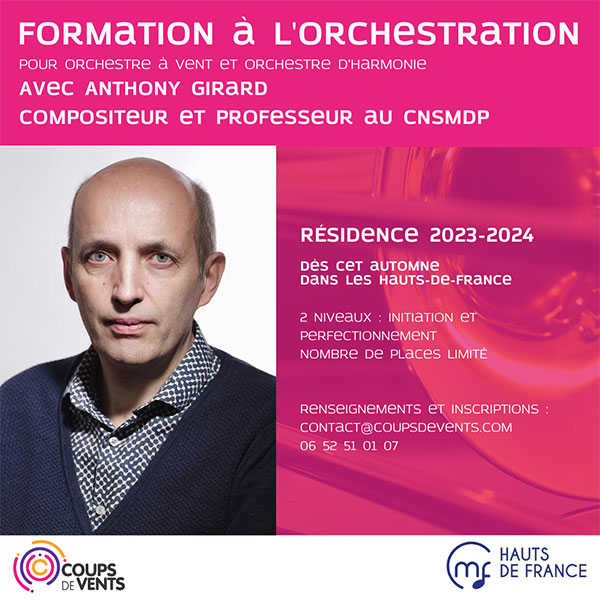 6 June 2023
We told you about it a few weeks ago: as part of its 2023-2024 residency devoted to orchestration, Coups de…
Subscribe to our newsletter
Concert dates, major events, good news: be the first to know! Every month, get the latest Coups de Vents news delivered straight to your inbox.